If you fancy a relaxing evening filled with the ambience of your favourite songs to the tunes of jazz, salsa, merengue, Cuban maracas and dance, Latin Affairs can do it better like no other. Having performed recently at the New Year Salsa Party on 11 January this year at the Alliance Francaise Theatre in Singapore, the band drove the crowd of expats and locals into happy dancing throughout the night.

Started halfway in 2011, Latin Affairs is led and organised by 2 key musicians from Cuba - Ernesto Enriquez Castillo and Pablo Calzado Morales, with the intention of integrating Latin American and Spanish musicians, spreading their infectious tunes in Latin events, festivals and celebrations in Singapore. They have performed in Malaysia and around Asia since.

36-year-old Colombian singer Angela Vargas, who sings for Latin Affairs and other bands, adds soul to the band with her strong yet soothing voice, her occasional playing of the maracas, her dance moves and of course, her ever-present smile. She performed in Latino Salsa Thursday in August last year at Clarke Quay in Singapore and at this year's New Year Salsa Party.

We interview Latin Affairs and Angela on their musical journey in Asia so far.

To Latin Affairs:

Where was your first performance in Singapore?
Latin Affairs' first performance as a full band was at the Shangri-La Hotel Ballroom, full of very memorable experiences.

Did you expect the audience in Singapore to be receptive to Latin music when you first performed here?
Normally the events that we have been booked for, the audience already has a Latin music background so they interact with the band and request for a song or dance and sing along the most popular Latin hits.

What do you think of the surge in Latin music in Asia compared to the first time you came?
Latin music's understanding and enjoyment in Asia still at a growing stage of which we are part of. Sometimes it can be hard to transmit the message to certain crowds, but most of the time the crowd in Asia enjoys the Latin beats and Spanish songs.

What were some of the most challenging requests or tasks you have experienced as a band in Singapore?
Recently we toke part of a celebration in Alliance Francaise of Singapore and we had to learn a latin song in French that is actually a major French music hit.

Describe to us your music style and where you get your musical influence from.
Our music style is International Latin music and we always try to combine different influences from our cultures in our diverse countries.

Do you write and compose many of your songs?
We mostly play latin International hits but sometimes we expose some original music to the audiences for their enjoyment.

What's the creative process like when composing the songs?
Song creation starts with the talent of one person or group , the ideas emerge and the music sounds.
Every person has a bit of a creative composer inside. The creative process is normally and enjoyable moment when ideas become art , the dancing and singing process joins along the way.

What is the audience's most loved and famous song from the band?
Normally not just one but a few like Michel Telo's Ai Se Eu Te Pego and Gypi King Medley hits like Don Omar Danza Kuduro, etc.

Where in Singapore can we find the band performing? When is your next performance?
We normally perform in different locations and our Facebook page will be launch very soon to keep the calendar updated with upcoming gigs.

The band's ambitions for the future?
More opportunities to perform in Singapore's important events and festivals and Overseas.

Anything else that we should know about the band?
We are very friendly people so if you ever come to any of our gigs make sure you say hi.


To Angela Vargas: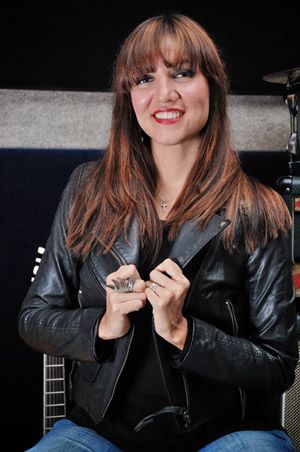 Tell us more about yourself.
Born in Cali, Colombia, I have been in Asia for the last 10 years performing in 5-star hotels. Started singing in July 2003 in Jakarta from then on, went to Bangkok, then Koh Samui, then Macau 2005, and back to Bangkok in Novotel Siam Square, with The All Star Band BKK from Dec 2008 until January 2011, was working with El-Live Productions, traveling all around Asia.

You sang in French at the New Year Salsa party here (most Latin bands sing in Portuguese, English or Spanish). When did you learn French?
French used to be my second language, as I practically learned Spanish and French almost at the same time. Since I was a baby, my granddad wanted me and my brother to speak more than one language. I speak 4 language: Spanish, French, English and Portuguese, including just a tinny bit of Italian as well.

How did you become a singer?
I started singing in school when I was a child. When I was 13, my mother transferred me from a French school to an arts school, and there was where I started playing music and singing in every band i could. We used to play Latin-American traditional music. When I turned 18, I sang in bars and pubs with a 70's Rock'n'Roll band, and was the youngest person in the band. I also sang with my music teachers in their own band.

Why did you choose to be a singer?
In the school they taught us music and it was obligatory, so I had to read and write music, play an instrument and do plastic arts as well. After this high school, I went to college and studied Music and Visual Arts. But, I lived for a year and a half in Portugal, and I had some private singing lessons with some opera singers.

Many Latin female singers tie in sexuality with their music and dance. What is your opinion on this, and do you follow this trend?
I don't see it as a "trend". I think it doesn't matter where you come from, and what gender you are, being on the stage makes you feel good, and you show it. I've seen many singers who are not Latin, and they are VERY sexy. I think, as long as you are comfortable and you feel sexy, why not show it off. WIth our South American 'hot' blood, it makes us a tinny bit more sexier, but as i said before, it doesn't matter where you come from. Being a woman is something one should embrace and enjoy. And yes, you do feel very attractive on the stage!

What are the misconceptions people have about you as a Latina and a singer?
Well, I guess it depends on where do you play. Many guys think because you are the singer, you do other stuff....NO we don't! This is a job like any other job. The difference is that while we are working, everyone else is partying. We love our jobs and we like to be respected too.

How long have you been living in Asia for? What are your thoughts about the place?
I've been in Asia for the last 10 years. I came for a 6-month contract in Jakarta, and then I went to Thailand, Macau, Thailand again, and the last 4 years was an adventure singing in 5-star hotels with a Top40 band, Seoul, Taipei, Beijing, Kuala Lumpur and finally Singapore.... I was supposed to be here for only 4 months! But I found love, got married and hopefully will have a happily ever after kind of story (laughs)! But, I adore Asia, since I have met people that I consider my friends and family forever. I can't complain. Singapore is an amazing place and I love every single thing about it. Right now for my pregnancy, i'm not singing much, but I will definitely let you know soon where I will be performing with my big bump!
Written by Maria Fung