What is Brazil to you? Is it football, samba and beautiful girls? For most people unfamiliar with this South American country these would be on top of their minds. And of course! Brazil is all of these, but it is also so much more… It is delicious gastronomy, growing economy, a thriving cultural scene and of course marvellous natural wonders.

UNESCO considers Natural Heritage of the World all natural monuments made up of biological and physical formations, with a unique value granted from either their aesthetics or scientific perspective, including preservation of endangered species or one of a kind geological formation.

Brazil - the biggest country in South America - has seven locations officially recognized as World Natural Heritage sites and are among some of the most beautiful and incredible places in the planet.

All these places are important for Brazil, not only because of their natural wealth but because of the immense amount of income generated from exploration and development for tourism and other industries.

Be sure to add at least one of these sites to your next trip to this colourful country!

1. Iguaçu National Park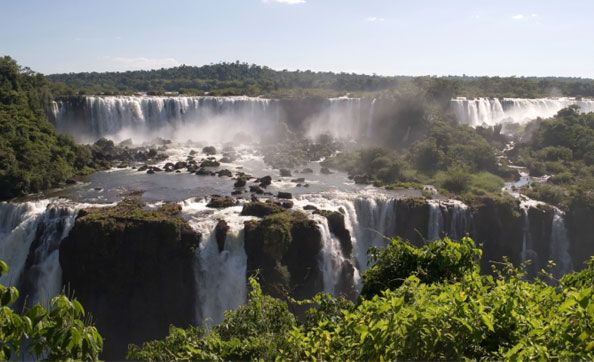 This is probably the most famous within the list. It has an area of over 185 thousand hectares and is located at the western end of Paraná State, in Foz do Iguaçu. This amazing place has one of the largest forest reserves of South America and holds a large number of flora and fauna, like a huge genetic heritage library for the planet. The park is so big that only 0.3% of it is open for visitors!

One of the most renown features of the park are the Cataratas do Iguaçu – the waterfalls -  with some falls falling from as high as 72 metres.


2. Costa do Descobrimento (Discovery Coast) – the Atlantic Forest Reserves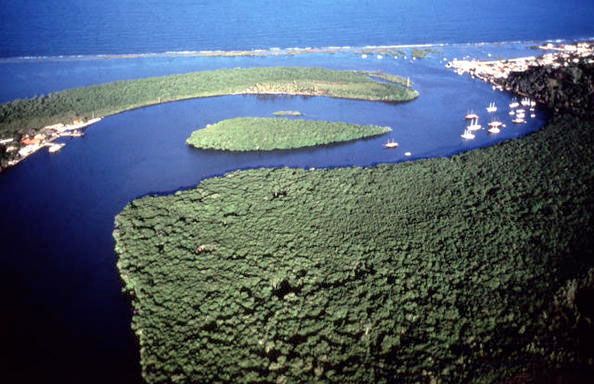 Image from UNESCO

The Atlantic Forest is known as one of the most endangered rainforests of the planet. It has been mistreated by humans for decades; note that around 70% of Brazil's total inhabitants – 190 million - live along the Atlantic coastline. Mayor threats are agriculture, pasture, hunting, deforestation and fire.

The largest continuous regions in the area are on the Discovery Coast. Even though its fragility, the region is amazing. It contains eight natural reserves southern of Bahia and northern Espírito Santo. They are all part of the protected areas of the National Parks of Monte Pascoal, Costa do Descobrimento and Pau Brasil, as well as


3. Southeast Atlantic Forest Reserves




These are located between the states of São Paulo and Paraná. They include the mountain ranges along the coastal areas, with 470 thousand hectares of amazing landscapes that are home to some of the most amazing individuals of the flora and fauna. Thirty caves are open to the public and can be visited with experienced local guides. Some camping facilities are located close to the visitor centres.


4. Preservation Areas of Pantanal (Marshlands)



Image from http://ganesh-worldheritage.blogspot.sg/2012/07/brazil-brazil-pantanal-conservation.html

These 187 thousand hectares of marshlands comprise the Pantanal National Park and the Private Reserves of Acurizal, Penha and Dorochê. The area is located between the Southeast of Mato Grosso and the Northeast of Mato Grosso do Sul. As it is the only region of the marshlands that remains partially flooded, it is a great and almost unlimited water supply for the fauna and it is home to hundreds of endangered species. Major human threats are commercial fishing, cattle, hunting, deforestation, mining and agroindustry.


5. Preservation Complex of the Central Amazon




This is actually the largest protected rainforest region of the planet! It holds the Anavilhanas Ecological Station - one of the world's largest fluvial complexes; the Sustainable Development Reserves of Amaña and Mamirauá, and the Jaú National Park - Brazil's second largest national park. Beyond Novo Airão there is no road access to Jaú National Park, and it can only be accessed by river, talking about adventure! If you plan to visit this park be sure to obtain the proper permits in advance.


6. The Brazilian Atlantic Islands: Fernando de Noronha and Rocas Atoll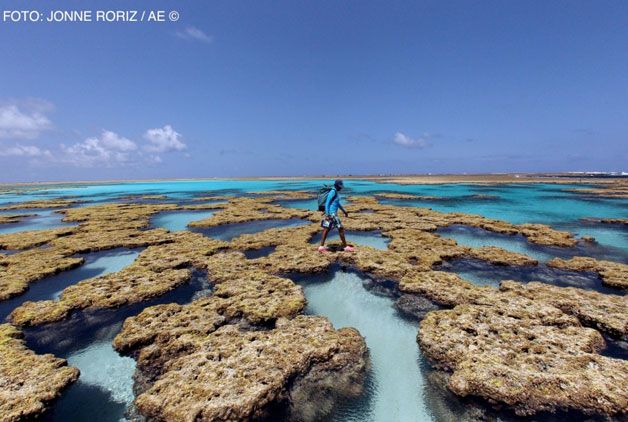 Image from http://blogs.estadao.com.br/herton-escobar/reportagem-especial-atol-das-rocas-1/

The Fernando de Noronha archipelago has 21 islands, islets and boulders. Over here you can find one of the world's largest reproductive colonies of marine birds and several exotic species of corals, sponges, algae, molluscs and of course, fish. Rocas Atoll is at 144 nautical miles from Natal, in the Rio Grande do Sul state. It is the only atoll in the South Atlantic and it is Brazil's first biological marine reserve. Over 150 thousand birds either live here or use the islands within the area – Farol and Cemitério – for reproducing, foraging or as a sort of stop pits for migrating visiting species.

As tourism is an important economic activity on the islands there are daily flights from Recife and Natal. About 70 small hotels in the islands wait for the visitors. The park entrance is controlled and limited and there is fee – a sort of environmental tax – that is paid to the State. Daily flights and cruise ships make it easy enough for travellers to get to the area, however only scientific research expeditions are permitted to Rocas Atoll.


7. Chapada dos Veadeiros and Emas National Parks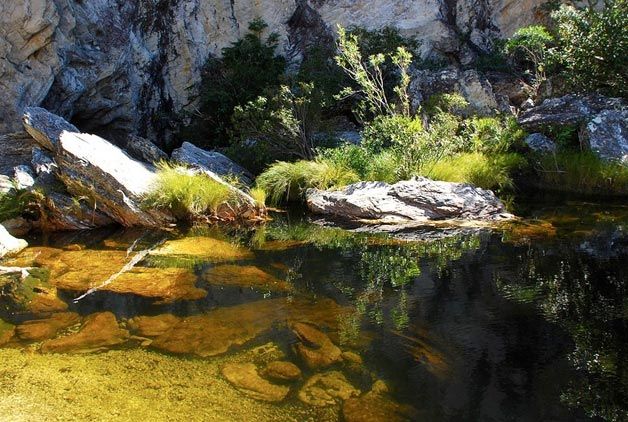 Image from http://omgtoptens.com/misc/nature/top-10-forests-that-gets-maximum-rain-year/

The National Park of Chapada dos Veadeiros is a preservation area in Midwestern Brazil. There are many species living in the park but about fifty are classified as rare, endemic or endangered!

To get around Chapada dos Veadeiros is highly recommended to get a car as most attractions are quite far from each other and walking around to see all of them can be complicated. A good idea is to write down the names of the waterfalls you want to see to get directions from the locals if you need it, there are little English speakers in the area.


Written by Melissa Gold P.